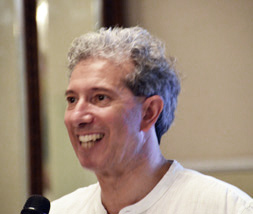 I started working as a speaker for Deutsche Welle (Cologne) in my mother tongue, Italian, as early as the end of the 80s. Since then my accent-free voice has been heard in many media, in image films for the Internet, trade fairs, reports, in audio guides for cities and museums, advertising films, language courses for Italian, audio books, as well as in radio plays, documentary films, scientific productions, e-learning, literary voice recordings, animation films, telephone loops
I completed my training as a dubbing artist and voice-over artist in Rome, and then further trainings in voiceover technique and film direction in Ferrara. As an actor I also work for cinema and television films, and as a dubbing-artist for Italian and German with an Italian accent.
My further training courses as an actor give my Italian voice a warm and deep natural voice at its best. I am also able to dub roles between the ages of 20 and 80.
I have also been a radio journalist for WDR (Cologne) since 1985, and since 1987 I have been lending my Italian voice for the ARD programme "Die Sendung mit der Maus". I can also do translations and subtitling into Italian for you.
Especially through my many years of experience in the Italian editorial departments of WDR and Deutsche Welle, I appreciate how important the speech melody of a speaker is for the intelligibility of the listener. Especially for audio productions with literary or scientific texts. Technical texts are also used in a wide variety of industries, often in the form of installation instructions, product analyses and maintenance manuals.
The choice of a speaker is of particular importance for the image of a company or a product: with a linguistically, technically and stylistically convincing advertising or industrial film, consumers perceive a product as being of high quality even before they use it for the first time.
---